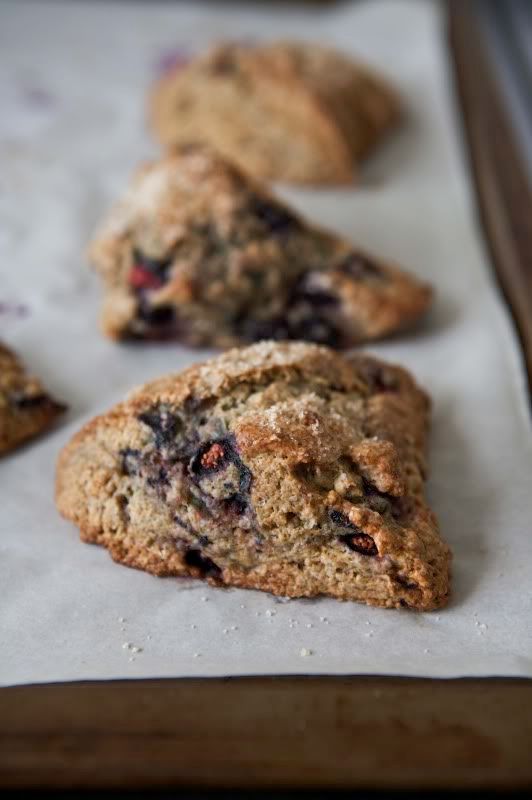 Many a years ago a
friend
told me about
Eat Right For Your Type
. It told me to avoid coffee and gluten among other things. COFFEE. Really!? Yet to ween off of that. I did, never the less, start baking pretty much everything with brown rice and spelt flour. Spelt flour is a lot more forgiving in regular recipes. It has a nice earthy taste to it that's quite the obsession around here. I've done things from chocolate cake to crepes. And I am here to share my scones recipe with you. Since the weekend is almost here and I do whip these out EVERY weekend (to have with my latte).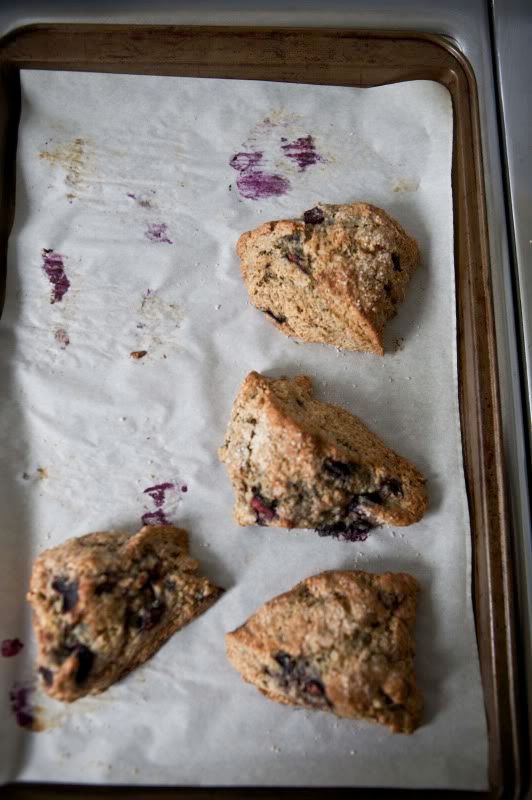 Spelt Blueberry Scones
2 cups of Spelt Flour
1/4 cups white sugar
1 1/4 teaspoon baking powder
1/4 teaspoon baking soda
1/4 teaspoon salt
1/2 cup (1 stick) unsalted butter, cold and cut into pieces
3/4 cup blueberries
1 teaspoon vanilla extract
1/2 cup buttermilk*
*I make my own buttermilk from soy. Use 1/2 cup soy and stir in 1 tablespoon of lemon juice. Let it stand for 10 minutes to activate and thicken a bit.
Preheat the oven to a blazing 400 degrees.
In a large bowl, whisk together the flour, sugar, baking powder, baking soda, and salt. Cut the butter into small pieces and blend into the flour mixture with a fork until the mixture looks like coarse crumbs. Stir in the blueberries. In the small measuring cup whisk together the buttermilk* and vanilla extract and then add to the flour mixture. Stir together.
Transfer to a floured surface and knead dough until it comes together. Pat the dough into a circle that is about 7 inches round and 1 1/2 inches thick. Cut the circle in 8 pie-shaped wedges. Place the scones on a baking sheet lined with parchment paper. Sprinkle the scones with raw sugar.
Bake for about 15-20 minutes. And va-la.