ouh-wee! So this week's experiment in running solemnly on french press without any espresso FAILED big time! Obviously. A bit impossible for me to keep up with the hard times (ha) without my jolts strategically implemented throughout the day. What was I thinking?! I am especially looking forward to my Sunday morning coffee run followed by farmers market, followed by another coffee run followed by play date with some dear friends. You better bet your dollar on me being the first one waiting Monday morning at Naked Lounge Coffee's Roasting house to get my pound of freshly roasted espresso beans (for half off). Or maybe two (wink wink).
I am also especially looking forward to getting my hairs trimmed tomorrow! This week I have gone through a few sessions of bleach bathing and toning, happy to announce that currently I am a pretty light blonde with just a hint of blue hue. Heck. Did not foresee that 'blonde' is so high maintenance!
Lizka
will be (barely) trimming it for me. My bangs wont be impairing my vision any longer.
So. Last thing I am looking forward to, but now as I am typing this I am realizing that it might be a stretch to fit in tomorrow with my already packed day, never the less I will try (I will be back on espresso mind you) is baking some cherry crumble cake. I came upon this recipe and have been dreaming of it ever since.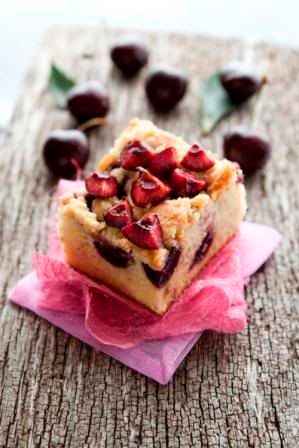 You can find the original recipe
here
, I will be making mine with spelt.
Happy Sunday!